You walk into an unfamiliar office space as your heart is beating out of your chest. You feel yourself sweating down to your palms as you go to extend your hand for a handshake. Thoughts are going through your mind of how you wish you didn't drink two cups of coffee that morning but there is no turning back now- the interview is about to begin.
We've previously offered tips on how to land the interview via the way you network. Landing the interview is step one.
Once scheduled, preparing for and participating in an interview can be a nerve-racking and intimidating experience. But with proper preparation, an interview can open the door to endless opportunities. What you wear, how you present yourself, and even what you share on social media can all be important factors in how successful an interview will go. Follow these do's and don'ts on your next interview to give yourself an extra advantage.
Attire
Giphy.com
DO
Dress to impress. This is the first impression you will make on an employer so appearance will matter. You want to dress conservatively and professional. A crisp, ironed button down with tailored pants is always a safe go-to. Make sure you try on your clothing ahead of time to avoid any last minute panic attacks of having nothing to wear. Also, if you already know the office attire, you always want to dress it up one notch.
DON'T
Pick out your clothing an hour before an interview. It will just add on extra stress. You don't want to make the impression to the employer that you are not well put together and unprepared. Ill fitting pants, a wrinkled shirt, too much jewelry, or showing too much skin can translate into being unorganized and disrespectful. Remember: your clothing can give you that extra boost of confidence you will need for the interview.
Timing
iwastesomuchtime.com
DO
Get there 15 minutes early. There is always the possibility that you can run into unexpected delays on the way there, so make sure you plan ahead. If it takes you 30 minutes to get there, leave an hour before.  It's always best to show up early than 5 minutes late.
DON'T
Get there an hour early. If you show up to the place of the interview much earlier than expected, the interviewer may not be prepared and feel under pressure. In the case you get there too early, don't go into the office just yet. Find a nearby coffee shop or store and wait until the time is right.
Knowledge
Giphy.com
DO
Research the company ahead of time. Go on the company website and their LinkedIn page to see what recent projects the company has been involved in and search the Internet to see if they have been in the press recently. During the interview, mention that you were a fan of the latest product they released or that you support their decision to increase their presence on social media. The interviewer will be impressed that you are well informed about the company.
Also, utilize Glassdoor.com to see what employees have been saying about the company. Past and current employees often post information about the interview process including questions the interviewer asked.
DON'T
Go in knowing nothing about the company. The interviewer may ask you questions relating to recent news in the industry or what you value about the company. Find out about the company culture and leave yourself enough time to get engaged in the company's lifestyle.
Preparedness
Courtesy: nesn.com
DO 
Practice, practice, practice! Be comfortable with answering open ended questions about yourself and the dreaded "What are your weaknesses?" question. Make sure your resume is up to date and that you can confidently explain your past work experience and/ or education. Also, make sure to bring an extra resume or two just in case the interviewer doesn't have it on hand.
DON'T
Say you have no weaknesses. Turn your weaknesses into strengths by showing that you are a problem solver. You don't want to come off as being too confident, but on the opposite side, don't lack confidence in yourself. Remain professional, passionate, and knowledgeable about your past experience and where you want to go in the future.
Social Media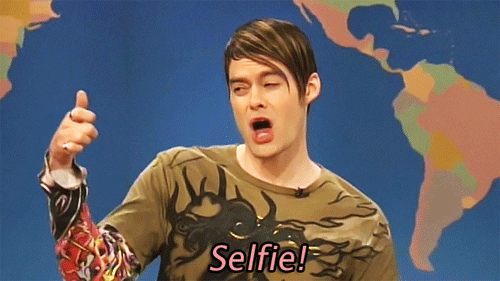 Giphy.com
DO 
Keep it professional on social media. Believe it or not, interviewers are checking social media to see if their prospects know how to be responsible and are mature enough to hold a professional job. Post stories you find interesting that are relevant to your industry and demonstrate that you are in the know.
DON'T 
Upload a picture on Facebook of yourself holding a bottle of alcohol with the hashtags "gettingwasted" or "turntup", knowing that you have an interview coming up. Employers don't want to deal with an employee that comes in late and hung over because they were out partying the night before.
Follow-Up
freelancerrealtalk.tumblr.com
DO
Send a thank you letter immediately. When you get home after the interview, write a thank you email to the interviewer saying you appreciate that they gave you the time for an interview. Many times an interviewer will be dissatisfied with a person that did not formally thank them for giving up their time. A thank you letter can solidify your interest and dedication to the position you are applying for.
DON'T 
Email the interviewer asking if you got the job. You wouldn't text someone after the first date asking if they wanted to move in. Don't get ahead of yourself. A thank you letter will leave that last impression of you on the interviewer so keep it short and professional.
---